"Anyone unable to handle challenging conversations should not be a CEO."
That quote from David Barker, CEO of Crohn's and Colitis UK, sums up the dilemma facing many charity CEOs. They know they should use social media, but they're terrified of having 'challenging conversations' in the public arena. And David's response? "If you can't handle it you shouldn't  be a CEO."
In this interview David gives iron-clad reasons for CEOs to embrace social media, while also dispelling many of the negative myths around it.
I started by asking David why, while some charity CEOs are embracing Twitter, the majority still avoid it. There seems to be a genuine fear of being forced to have the 'challenging conversations' mentioned above. Are these genuine concerns or should charity CEOs just get over their fears and accept that social media engagement is the reality of modern leadership?
David Barker: First of all, never be forced into anything. However, anyone unable to handle challenging conversations should not be a CEO. More than ever before, modern leadership in charities requires a relationship with the public that is open, honest, authentic and accountable – and that starts with the person at the top of the organisation. Social media provides both a listening and a broadcast platform – critical components for any modern leader.
"Anyone unable to handle challenging conversations on social media should not be a CEO."
What do you think are the biggest challenges (and opportunities) for charity CEOs to tap into social media – and Twitter specifically?
Firstly, I believe the opportunities far outweigh the challenges – and that comes from a CEO who has in the past had to deal with quite a challenging Twitter troll.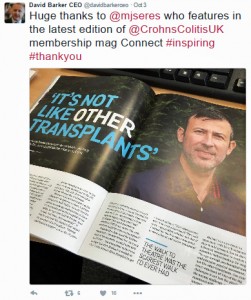 The greatest challenge for any CEO is time, in particular ensuring that the right amount of time is spent on the right areas of work. Good use of social media requires some time commitment (usually when travelling, grabbing a sandwich, snatching time between meetings or sitting through the adverts of an evening television programme) but having a few clear goals in mind will help you to define how much time you give to it and what you want to get out of it.
I spend my time focused between four main areas:
Listening
Researching
Broadcasting
Engaging
Listening – Using Twitter to listen can be a revelation – by setting up lists (which help to sort wheat from chaff) I'm able to hear first hand what people are saying about the issues that matter to the charity and the people we serve. Social media is a real-time temperature check which is helpful, enlightening, inspiring, occasionally painful but most of all tremendously insightful.
Researching – It can be quite stunning (and a bit scary) just how much you can find out about people and organisations through social media. Whether it's a quick piece of 'social research' in advance of meeting someone or trying to reach out and connect with relevant and useful individuals/opinion formers as part of a networking and influencing programme – they are all tremendously valuable uses of social media.
Broadcasting – amplifying our organisational messaging/social media, being an ambassador for the cause and an extension of our organisational brand are important parts of a CEO's social media broadcasting. A quick peek at my Twitter analytics dashboard gives me some interesting insights into what seems to be popular and how people have engaged with a particular tweet or piece of content.
Engaging – in my opinion this is the most important, yet trickiest, area of my social media voyage. Striking a healthy balance between entering into dialogue without being overly drawn into long winded, time consuming, backwards and forwards conversation is key. A quick comment on a pertinent issue or post, a thank you, an answer to a question or an encouraging 'like' can all serve a useful purpose in developing engagement and relationships. If people want more than that I suggest they email me.

More broadly, how do you think the role of the leaders of non-profit organizations has changed/will have to change as a social media becomes more ingrained?
Over the last two years charities have been under unprecedented scrutiny from the media, government, supporters, donors and the wider general public. This has focused the sector sharply and driven all charities to think and look hard about how they can better engage with their beneficiaries, supporters and donors. Charity leaders clearly have a critical part to play in this and need to be visible, accessible and accountable.
"Charity leaders need to be visible, accessible and accountable."
Social media provides a platform from which to do this and, as it becomes increasingly ingrained into daily charity life, my view is that leaders will need to make it the norm rather than the exception.
Why did you choose to embrace Twitter and what value do you personally get from it?
I embraced Twitter for a number of reasons:
1. To learn by doing
2. To lead by example
3. To be a 'visible' leader of the organisation
4. To encourage staff to embrace digital and enthuse them to innovate and learn
The whole digital space (whatever that means) fascinates, excites and drives me. It is rich with opportunity for every area of an organisation and creating a strong digital culture is the key to unlocking it.
"Just get on with it!"
At Crohn's and Colitis UK, unlocking digital potential is helping us to build a strong and growing community around the cause. It is helping us to educate people about these debilitating, invisible diseases and is enabling us to reach out and support growing numbers of people with Crohn's Disease or Ulcerative Colitis. Ultimately our social media programme is helping us to deliver against our charitable objectives – personally I couldn't wish for anything more worthy than that.
"Social media helps us deliver against our charitable objectives – I couldn't wish for anything more worthy than that."
What's your Twitter 'strategy'?
My 'strategy' or 'mantra' is: Play; Learn; Play some more – then apply the best of your learning.
As a CEO, how do you think your very visible position on social media enhances Crohn's and Colitis UK's existing communications and fundraising activities?
Endorsing, advocating and amplifying your organisation's communications and fundraising activities and messages is an important part of being a CEO – social media provides an excellent platform to help CEOs to deliver this.
"Endorsing, advocating and amplifying your organisation's communications and fundraising activities is an important part of being a CEO."
I see you regularly engage with and give 'shout-outs' to the charity's employees and volunteers on Twitter. I'm sure this must make them feel valued and appreciated. Is this why you do it?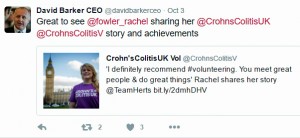 Our members, volunteers, fundraisers, donors, supporters and staff are what make the charity tick – and we must never forget that. They are all, individually and collectively, helping us to make a difference to the growing numbers of people affected by Crohn's Disease or Ulcerative Colitis. If a heartfelt tweet from the CEO can help someone to feel valued and appreciated then to my mind that is a very good use of 140 characters.
Do you encourage the charity's employees to use social media?
Absolutely yes – to create a digital culture it is vital to encourage staff to play and experiment in the digital space. A charity I once worked for banned access to Facebook just in case staff were checking it during work hours – bonkers!
Before becoming CEO you held senior marketing, communications and media relations positons in a number of charities. Has this influenced how you operate as a CEO? Has it made it easier to embrace the 'Social CEO' role?
Without a doubt, yes it has. It has given me the experience and insight to understand the rich opportunities that exist and the critical role social media has in building a successful organisation.
In the social age is it now becoming part of the CEO's role to be the organization's 'Chief Storyteller'? Should social media engagement now be on every CEO's job description?
Great question – yes it should be. CEOs are charged with being an ambassador and spokesperson for the organisation and the cause. Increasingly charities have understandably had to become more open and accessible and that starts right at the top of the organisation. Social media provides a great platform for any modern leader to lead by example.
How important is transparency in the charity sector?
One word – critical
If you could give advice to other charity CEOs who are reluctant to embrace Twitter, what would it be?
Just get on with it!
In this post, Zoe Amar and Matt Collins share their 'Top 10 Tips' for social CEOs. Does anything on the list really resonate with you? Did you have reservations about any of the topics when you first started out on social?
All 10 tips are excellent and really resonate – although I see Tip 1 'Social Media is a massive opportunity' as more of a true fact than a 'Top Tip'.
Do you use any other social networks (for either business or personal use)?
I have separate work and home Facebook profiles. At work I watch/listen/monitor – at home I actively engage. I am trying to make more use of Linkedin and have dabbled quite unsuccessfully in Instagram, Pinterest and Periscope. I'm also slowly getting into Hootsuite to help me manage my social media life and I am a strong advocate of the use of simple video to support social media work.
_____________________________________________________
"Just get on with it!"
That should be the clincher for any CEO still unsure about embracing Twitter. Your stakeholders expect you to do it; your employees want you to do it – so what are you waiting for? Bite the bullet, get some advice – find a mentor if need be – but just get on with it.
Huge thanks to David for taking part in this interview. He has provided some real stand-out quotes and, if there were any doubts about the benefits of charity CEOs going social, I think he has dispelled them.