You won't find Hikmet Ersek, the CEO of The Western Union Company, on LinkedIn. He's one of those modern CEOs who's dispensed with that tired old 'professional social network' in favor of Twitter. He uses the platform to talk about a wide range of issues, from business issues to international, economic and social topics such as the current refugee crisis.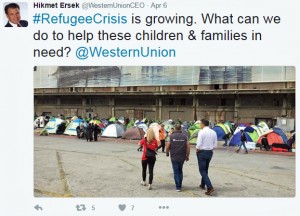 A regular speaker at the World Economic Forum and the Clinton Global Initiative, Hikmet has been publicly recognized for his commitment to corporate responsibility and shared value. In 2012 he received The Opening Minds Corporate Leadership Award from the Institute of International Education and Corporate Responsibility (CR) magazine's 2012 Responsible CEO of the Year Award. He serves on the Board of Directors for Teach for All, an NGO that is dedicated to expanding educational opportunities around the world.
Growing up in an international family himself, Hikmet's background reflects that of many of Western Union's customers. Born in Istanbul to an Austrian mother and a Turkish father, he is married to a woman of Indian and Austrian descent.
A true citizen of the world.
Find Hikmet on Twitter at: @WesternUnionCEO